To capacity build and empower disadvantaged women and young ladies in Oldham, by building their confidence, self esteem, social and educational skills through the provision of a range of demand led, quality controlled and fit for purpose educational training programmes.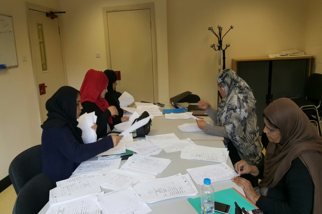 Timetable of classes:
Arabic Studies
Monday
10.00am to 12.00pm

Work Club-

Pre-employability skills programme

Monday
12.30pm to 2.30pm
Sewing
Monday
12.00pm to 2.00pm

Communication skills- "incorporating Life in the U.K"

Tuesday
12.30pm to 2.30pm

Creative English

Wednesday
10.00am to 12.00pm
Senior Citizens 50+Group – (Arts & Craft, D.I.Y, Keep Fit, Lunch n Club)
Wednesday
10.30pm to 12.30pm

Reading and Writing- "incorporating driving theory"

Wednesday
12.30pm to 2.30pm

Sewing- Fashion & Design

Wednesday
10.15am to 12.15pm

 

Health & Social Care Level 1

Thursday
11.30am to 2.30pm
Autism awareness Level 2
Thursday
11.30am to 2.30pm

Walking to Health

Thursday
12.00pm to 12.45pm
Creative English
Thursday
1.00pm to 3.00pm

I.C.T

Thursday
12.30pm to 2.30pm
Young Children's Programme 8yrs to 11yrs boys & girls ( Fast & Furious Club)

Young Children's Programme- 9yrs- 18yrs boys until the age of 12yrs (Sports Club)

Young Girls ONLY programme 11+ (Trendy Teens Club)

Friday

Saturday

Monday

6.00pm to 8.00pm

1.00pm to 3.00pm

6.00pm to 8.00pm
 On going registration and enrolments:
Sewing
Creative English
Pre-emploability skills programme –  which will cover communication, reading and writing, employability skills, external visits to promote community cohesion, gain insight into the role of business administration and book keeping.
Coming Soon:
Enrol onto our NEW English programmes starting soon.
 OPEN DAY: Wednesday 24th October 2018 for Pre-employability Classes.   (Time: 12.00pm to 2.00pm)